Lorac Cosmetics issued a new series of three Unzipped palettes with different sunset themed locations this summer. I'm a sunset chaser and there are no more beautiful sunsets than here in the desert. The horizon begins with a golden color.
It morphes into orange and pink and finishes off with the most gorgeous purple.
Desert Sunset was the natural choice for me to pick up. I really adore the colors and especially together as a group. The unzipped sunset series retails for $42 each for 10 beautiful shades but I see that they're ON SALE at Kohls for $36.99.
The outer construction of the palettes is really cool. They each have a unique wash of colors that mirror the shadow hues inside. The top has a construction that looks like the rays of the sun and it can fold back from the corner to open. I seem to lack the words to describe it but if you grab the lower right corner, the top sort of folds back with the rays acting as joints in the lid. It's a unique construction with a strong magnetic closure. There is no mirror on the inside, keeping the weight to a very comfortable level while adding to the travel functionality. The palettes are quite slim, pleasing to hold and store and made in the USA.
The Desert Sunset palette has four mattes and six shimmering shades. I was particularly pulled in by the pinks and purples. The pink tones, (the lighter is shimmer and the darker is a matte), are outstanding and my favorites in the palette. These hues are a predominant part of the nightly desert sunsets. I was particularly pulled in by the pinks and purples. The color scheme is something I look at nearly every night while marveling at it's beauty. I couldn't forget this palette. It was in my mind daily until I purchased it and wore it. It will be in my top shadow palettes of 2017 for sure.
When I first used the palette, I fell in love but was a little disappointed in the purple. It seemed to have such light pigmentation that it didn't live up to my expectations. At first. I kept working with it and found that once I had broken the surface of the shade, it applied with a fuller coverage. And now I'm thrilled with it. The mattes kick up in the pan but I have no issues with fallout on the face at all.
I did a video review of these palettes which I'll link below. In the review, I show how I load my shadow brush and it could be the way that I do it is responsible for not having fallout on my face. I don't really know. I've been working with pigments in various forms and mediums for so long that this is my technique.
Also in my review is my stated love for plastic inserts. I see so many people rant about plastic inserts but if you watch the video, you'll see my love for plastic inserts and why they are a key part of my preferred form of shadow application. I am wearing the Desert Sunset palette on my eyes in the video.
The Ocean Sunset palette is a brilliant companion to Desert Sunset. The colors are a little bit muted in comparison and there are 5 mattes and 5 shimmers. See if you think they go together well also.
As of this writing, I've used the Ocean Sunset palette once. I've only had it a couple of weeks, but again, I'm really impressed with the pigmentation. The deep eggplant shimmer and the dark blurple matte are my favorites so far in this palette. The shimmering seafoam looses much of it's color on my skin, which absorbs green, and shows mainly as a cool golden shimmer. It may show up true seafoam on you.
The third palette, which I don't have, is Mountain Sunset. It has some purpley colors that remind me of the color the sunset reflects of the mountains in winter in my hometown in Alaska. As a blogger, I'm finding it difficult not to be able to report on all three palettes. I'm sure the quality is the same as the others, but I couldn't swear to it since I don't have it, you know?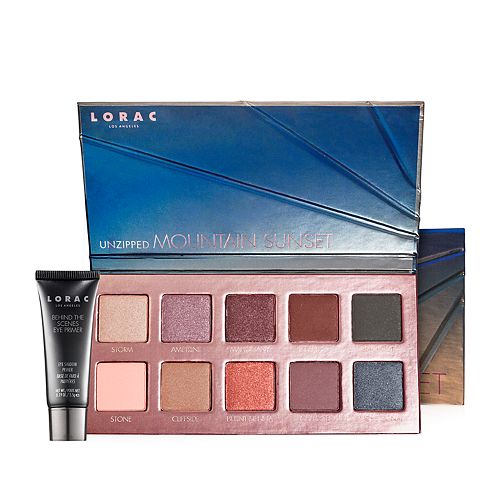 Lorac is a makeup artist owned and created cosmetics line. It is sold at
Kohls
, Ulta, and their
online website.
You can follow LORAC on
Facebook
,
Twitter,
youtube,
Pinterest,
and
Instagram.
Have you picked up any of the LORAC Unzipped Sunset series eyeshadow palettes? Which appeals to you most?